Conferences / Workshops / Seminars +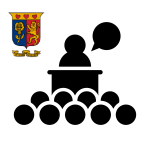 Permanent URI for this community
Browse
Browsing Conferences / Workshops / Seminars + by Title
Now showing
1 - 20 of 466
Results Per Page
Sort Options
A 2D-approach towards the detection of distress using Fuzzy K-Nearest Neighbor

(

Strathmore University,

2019-08

)

Machanje, Daniel

;

Orero, Joseph

This research focuses on a novel approach of distress detection referred to as the 2D approach, using the fuzzy K-NN classification model. Unlike the traditional approach where single emotions were qualified to depict distress such as fear, anxiety, or anger, the 2D approach introduces two phases of classification, with the first one checking the speech excitement level, otherwise referred to as arousal in previous researches, and the second one checking the speech polarity (negative or positive). Speech features are obtained from the Berlin Database of Emotional Studies (BDES), and feature selection done using the forward selection (FS) method. Attaining a distress detection accuracy of 86.64% using fuzzy K-NN, the proposed 2D approach shows promise in enhancing the detection of emotional states having at least two emotions that could qualify the emotion in question based on their original descriptions just as distress can be either one or many of a number of emotions. Application areas for distress detection include health and security for hostage scenario detection and faster medical response respectively

3-Group divisible designs with block size 4 and 2 groups

(

Strathmore University,

2019-08

)

Bezire, Wilbroad

One of the main problems in design theory is to find construction methods to obtain unknown designs. In this paper we give fundamental constructions of group divisible SBS designs with block size 4 and 2 groups. We give necessary conditions for their existence and prove that these conditions are sufficient. We use tools from graph theory and finite fields, for example-designs, Steiner quadruple systems (SQSs), 1 and 2-factorisations of complete graphs.

A Recommendation system for students career selection

(

Strathmore University,

2018-10

)

Chantal, Anita

Students enroll into higher learning institutions only to realize that they have chosen the wrong course to pursue, they lose on time and money. Selection of the wrong career means that there is a mismatch between the student's potential and a suitable career. The main purpose behind this research is to develop a recommendation system for students' career selection

A Study on knowledge, attitude and use of hormonal contraceptives among University students

Ndungu, Allen

;

Kendagor, Caleb

There has been sustained campaign for adoption of hormonal contraceptives for use by the general population worldwide to avoid unwanted pregnancies, unsafe abortions and reduce population growth. The main targets of these campaigns are the teenagers in schools, both primary and secondary since they are the most risk of unwanted pregnancies.

Accelerated circularity of consumer electronics using Block Chain and Optimized Machine Learning Algorithms

(

Strathmore University,

2019-08

)

Mwongela, Stanslaus

At the heart of our economy lies a linear take, make, dispose model, relying on consuming big amounts of finite products and fossil fuels. The challenge of consumer electronic waste is colossal, and is continuously growing. In 2016 alone, there was a global generation of 44.7 million tons of e-waste, with an estimated raw material value of EUR 55 billion. 435 thousand tonnes of the 44.7 million tonnes were mobile phones. Only 20 percent of e-waste is documented to be collected and recycled under appropriate conditions, whereas the remaining 80 percent is either thrown into the waste stream or dumped, traded or treated under substandard conditions. The consequences of this linear electronics system pose environmental and health impacts both at the production and disposal ends. At the same time, the economic opportunity is significant. Taking smartphones as an example, almost 1.5 billion are shipped every year, with each unit containing components worth over USD 100. This represents a potential USD 150 billion of value that enters the market each year. This value should remain in the system. Even if the materials present in smartphones were recovered through recycling the least valuable loop of a circular economy they could be worth up to USD 11.5 billion. The need to rethink the system is clear, but solutions so far have been limited. The circular economy coupled with the Al opportunity presents a vision and a workable path forwards to meet these challenges, by redesigning our economy to be one that creates rather than extracts value, and keeps the finite technical resources in flow within the economy. The main purpose of this study is to build a Block Chain Circularity Incentive System that facilitates the accelerated circularity of consumer electronics. The main focus being a decision system that processes the block chain data of consumer electronics use and disposal needs to allow circular product and material flows as well as operate circular business models. A formal experimental design is proposed, more specifically, a simple factorial design. As opposed to having one learning algorithm to process electronic products usage on a Big Chain DB, this research proposes to run multiple algorithms and aggregate the results into a single score. The research also proposes to collect primary data from consumer electronics manufacturers, consumers of electronics, and E-waste recovery firms. The primary data would be used to identify the challenges this stake holders face, train the learning algorithms based on consumer electronics use and disposal needs and additionally test the Block Chain Circularity Incentive System developed.

Achieving universal electrification in Africa

(

Strathmore University,

2019-05-29

)

Davies, Gabriel

Universal rural electrification is a worthwhile target, but requires subsidy. This is because rural electrification targets remote, spread-out customers, which raises connection costs. The lower incomes of rural populations relative to urban dwellers also makes rural electrification financially unviable. This presentation argues that private sector mini-grids have a critical role in delivering universal electrification to at least 100 million people in Africa for the least amount of public subsidy. The study demonstrates that, for these 100 million people, mini-grids are the most cost-effective means of providing electricity. It also argues that mini-grids and the main grid will ultimately integrate to form the grid of the future, which means that mini-grids are not a dead end or a stop-gap measure. And, finally, the presentation shows that mini-grids facilitate private utilities, enabling them to serve rural customers better and faster.

Adaptation of a RAS pathway activation signature from FF to FFPE tissues in colorectal cancer

(

Strathmore University,

2017

)

Omolo, Bernard

;

Yang, Mingli

;

Lo, Fang Yin

;

Schell, Michael J.

;

Austin, Sharon

;

Howard, Kellie

;

Madan, Anup

;

Yeatman, Timothy J.

Background: The KRAS gene is mutated in about 40 % of colorectal cancer (CRC) cases, which has been clinically validated as a predictive mutational marker of intrinsic resistance to anti-EGFR inhibitor (EGFRi) therapy. Since nearly 60 % of patients with a wild type KRAS fail to respond to EGFRicombination therapies, there is a need to develop more reliable molecular signatures to better predict response. Here we address the challenge of adapting a gene expression signature predictive of RAS pathway activation, created using fresh frozen (FF) tissues, for use with more widely available formalinfixed paraffin-embedded (FFPE) tissues. Methods: In this study, we evaluated the translation of an 18-gene RAS pathway signature score from FF to FFPE in 54 CRC cases, using a head-to- head comparison of five technology platforms. FFPE-based technologies included the Affymetrix Gene Chip (Affy), NanoString nCounter™ (NanoS),Illumina whole genome RNASeq (RNA-Acc), Illumina targeted RNASeq (t-RNA), and Illuminastranded Total RNA-rRNA- depletion (rRNA). Results: Using Affy_FF as the "gold" standard, initial analysis of the 18-gene RAS scores on all 54samples shows varying pairwise Spearman correlations, with (1) Affy_FFPE (r= 0.233, p = 0.090); (2)NanoS_FFPE (r= 0.608, p < 0.0001); (3) RNA-Acc_FFPE (r= 0.175, p = 0.21); (4) t-RNA_FFPE (r=−0.237, p = 0.085); (5) and t-RNA (r= −0.012, p = 0.93). These results suggest that only NanoString has successful FF to FFPE translation. The subsequentremoval of identified "problematic" samples (n= 15) and genes (n= 2) further improves the correlations of Affy_FF with three of the five technologies: Affy_FFPE (r= 0.672, p < 0.0001); NanoS_FFPE (r= 0.738, p < 0.0001); and RNA-Acc_FFPE (r= 0.483, p = 0.002). Conclusions: Of the five technology platforms tested, Nano String technology provides a more faithful translation of the RAS pathway gene expression signature from FF to FFPE than the Affymetrix GeneChip and multiple RNASeq technologies. Moreover, Nano String was the most forgiving technology in the analysis of samples with presumably poor RNA quality. Using this approach, the RAS signature score may now be reasonably applied to FFPE clinical samples.

AIDS-related Kaposis sarcoma pathogenesis

(

Strathmore University,

2019-08

)

Chimbola, Obias

;

Lungu, Edward M.

Kaposis sarcoma (KS), the most common tumor associated with human immunodeficiency virus- I (HIV-I) and human herpesvirus-8 (HHV-8) (also referred to as Kaposis associated herpesvirus (KSHV) infection, develops in approximately 20 percent of patients infected with HIV-I. The lesions of this multicentric vascular neoplasm are purplish patches, plaques, or nodules. Although highly active antiretroviral therapy (HAART) can prolong the time to treatment failure in patients with KS, nearly every patient with AIDS-related (or epidemic) KS eventually develops disseminated disease. Progression usually occurs in an orderly fashion from new localized or widespread mucocutaneous lesions to more numerous lesions and generalized skin disease with involvement of lyrnph nodes, gastrointestinal tract (GIT), lungs and other organs. Studies have shown that KS cells themselves are not infected with HIV-I; therefore, it is widely accepted than HIV-I does not play a direct oncogenic role in AIDS-KS. However, the precise role of HIV-I in AIDS-KS is still not completely understood, and there is considerable debate over whether HIVI plays a passive role (through the induction of immunosuppression) or a more direct role in the pathogenesis of this disease. We formulate a mathematical model to study the dynamics of HIVI related KS pathogenesis. In this model, it is assumed that HIV-I infects only the CD4 + T cells and HHV-8 infects the B- cells, which largely remain latently infected and only become reactivated after exposure to inflammatory cytokines and other growth factors secreted from HIV-I infected cells. The Infection free and Infection persistent equilibria have been found and their stability established. It is found that the disease can exist even if both sub-group reproduction numbers, relating to HIV-I and HHV-8, are less than unity.

Algorithmic prediction of internet technology utilization in learning

(

Strathmore University,

2017

)

Khakata, Esther Nyokabi

;

Msanjila, Simon Samuel

;

Omwenga, Vincent Oteke

Internet technology has been revolutionary over the years especially in the educational sector. However, the utility of internet technology in the learning process of a student in a higher learning institution has not been determined over the years. This has been due to the evolution that has taken place in education. This paper aims at helping in the development of an algorithmic model that will be used for the prediction of internet technology utilization in learning. Specifically, the research will focus on modelling the Cobb- Douglas production theorem to predict the learning output of a given student considering the utility of the internet technology, the infrastructural investment made by the institution of higher learning and the effort of the student. The results of this ongoing research will eventually be of great importance in helping institutions of higher learning determine their returns after investing in internet technology. The students will also be informed on how to use the internet technology in a better way in order to get the best out of the resource.